Enhancing Learning, Enriching Living
HYM GROUPS - NEXT REHEARSAL OF SESSION 23/24 - SAT 9TH DECEMBER
CAN'T WAIT TO GET EVERYONE TOGETHER AGAIN!!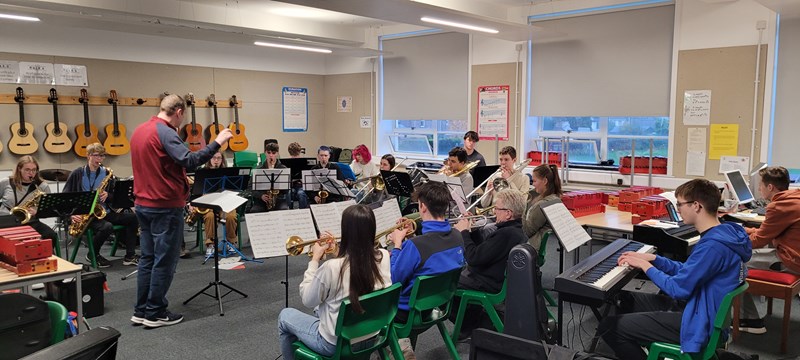 Highland Youth Big Band being all funky & cool at our 4th November rehearsal
-----------------------------------------------------------------------------------------------------------------------------------
PRACTICE-A-THON 2023 : 6th - 19th November
Between 6th & 19th November, all HLH music tuition pupils have been invited to prove to their Instructors (& families) that they CAN practice consistently!
They need to practice for a minimum of 15mins per day (except Sundays) and can be sponsored by the minute (be aware that there's no upper limit to practice time!) or for a total amount pledged if they complete the challenge.
Pupils can either ask for this form to be completed with the appropriate amount(s) and will collect sponsor money at the end of the challenge (which parents will then transfer using the link below).
Alternatively, you can make an immediate donation associated with your chosen pupil by using that same link.
We deliver music tuition free of cost to all our registered pupils, but the money raised from this sponsored event will go towards continued support of the many additional performance opportunities and experiences we are able to offer Highland pupils.
We are extremely grateful for your support.
https://www.highlifehighland.com/music-tuition/practice-a-thon/
Nov 2023 - Update
Here are the MAIN dates for 23/24 HYM activities: (check our social media platforms for updates)
| 2023 | |
| --- | --- |
| 9 Dec 23 | All Groups 10:30am - 5pm |
| 2024 | |
| --- | --- |
| 8 Jan 24 | Back to school |
| 27 Jan 24 | All Groups 10:30am - 5pm |
| 19-21 Feb 24 | Mid Term Inset |
| 24 Feb 24 | All Groups 10:30am - 5pm |
| 1 Mar 24 | All Groups 6pm - 9pm |
| 2 Mar 24 | Concert Festival - Eden Court Theatre |
| 24 Mar 24 | Highland Young Musician of the Year 2024 - Inverness Archive Centre |
| 30 Mar - 14 Apr 24 | School Holidays |
| 2 May 24 | Inset |
| 6 May 24 | Public Holiday |
| 16 Jun 24 | Beating Retreat - Inverness Leisure (Arena) |
HYWB CD - Journeys
Still Available
Contact: hym@highlifehighland.com to arrange an order.
Can also be purchased as single track or complete album digital downloads from iTunes, Amazon, Google and Spotify.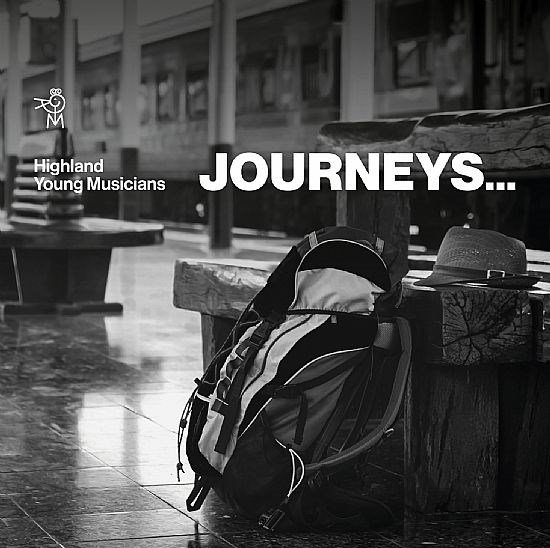 The HIGHLAND YOUNG MUSICIANS groups represent the north of Scotlands PREMIER youth music activities. Our mission is to foster excellence and inclusivity through various supported music activities. While they are part of High Life Highland's comprehensive range of progressive activities led by music staff - membership is not limited to individuals receiving lessons through HLH Instrumental Service. Anyone who meets the appropriate standards is welcome to apply for membership.
SO...
FULL MEMBERSHIP INFORMATION FOR 2023/24 IS ON THE HYM INFO MENU
SO...what DOES Highland Young Musicians mean to members...
"A good weekend playing PROPER music with PROPER musicans"
"Band-ter! welcoming community teamwerq lol"
"HYM makes me feel like I can take over the world and fulfil my dreams"
"family feelin' the groove "
"HYM gives me a purpose in life"
(genuine comments from HYM members)